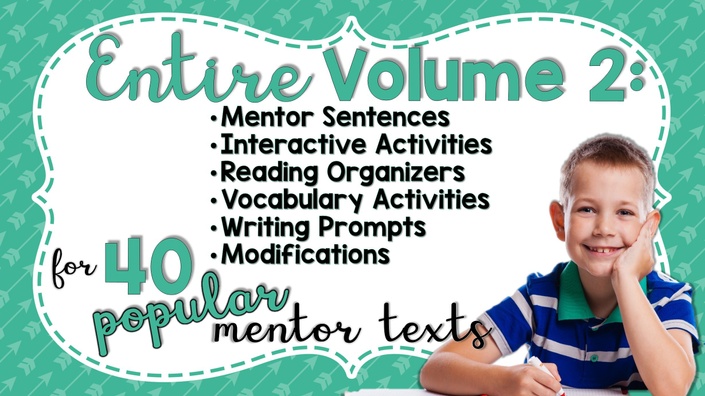 Volume 2 for Grades 3-5 ($141 Value - $99 Bundle Price)
40 Weeks of Grammar, Vocabulary, Reading, and Writing Activities
Although the listing says this is a "course," please note, this is not a course, but the following downloadable curriculum:
MENTOR SENTENCES & INTERACTIVE ACTIVITIES
You don't need to do all of the lessons in the order they come in the units, although you can do 1-3 in order if you'd like. When I created units 1, 2, and 3, I put them in the order I used them in my classroom, so these lessons are in an order that spirals and gets progressively more difficult, but it is not necessary to stay in that order. Unit 4 was created to incorporate nonfiction throughout the year.
There is a 9-page introduction with pictures included of how I use mentor sentences in my room (VERY detailed, day-by-day). In each unit, I walk you through each day's lesson for 40 weeks- all the work is done! I've even done all the thinking for you when it comes to revising and imitating! :)

All of the books and lessons in this bundle are:
-The Golden Rule By Ilene Cooper
proper nouns
-The Name Jar By Yangsook Choi
proper nouns
-Spaghetti in a Hot Dog Bun By Maria Dismondy
possessives
-When Lightning Comes in a Jar By Patricia Polacco
vivid verbs
-Firefly Mountain By Patricia Thomas
vivid verbs (personification)
-14 Cows For America By Carmen Agra Deedy
subjects and predicates
-Those Shoes By Maribeth Boelts
conjunctions in compound sentences
-The Memory String By Eve Bunting
compound sentences
-The Adventures of Spider:How Spider Got a Thin Waist By Joyce Cooper Arkhurst
compound predicates
-The Spider and the Fly By Mary Howitt
similes
-Cloud Dance By Thomas Locker
personification
-In November By Cynthia Rylant
metaphors
-Tikki Tikki Tembo By Arlene Mosel
compound sentences
-The Great Turkey Race By Steve Metzger
complex sentences
-The Honest-to-Goodness Truth By Patricia C. McKissack
similes
-The Snow Globe Family By Jane O'Connor
comparative/superlative adjectives
-Snowmen at Christmas By Caralyn Buehner
poetry
-Martin's Big Words By Doreen Rappaport
prepositional phrases
-Snow Day! By Lester Laminack
adjectives and adverbs
-The Day the Crayons Quit By Drew Daywalt
types of sentences
-Grace For President By Kelly DiPucchio
adverbs
-George Washington's Teeth By Deborah Chandra & Madeleine Comora
order of adjectives
-Night Rabbits By Lee Posey
similes
-Crickwing By Janell Cannon
complex sentences
-Pinduli By Janell Cannon
relative pronouns
-Twilight Comes Twice By Ralph Fletcher
personification
-My School's a Zoo! By Stu Smith
possessive pronouns
-Chicken Sunday By Patricia Polacco
dialogue
-Titanicat By Marty Crisp
prepositional phrases
-Voices in the Park By Anthony Browne
adverbs and adjectives
-Can It Rain Cats and Dogs? By Melvin and Gilda Berger
commas in a series
-Water Dance By Thomas Locker
personification
-You Wouldn't Want to Sail With Christopher Columbus! By Fiona MacDonald
adjectives
-Postcards from Pluto By Loreen Leedy
possessive pronoun its
-Animals Nobody Loves By Seymour Simon
compound sentences
-OWLS By Gail Gibbons
compound subjects
-If You Traveled on the Underground Railroad By Ellen Levine
clauses in complex sentences
-Snowflake Bentley By Jacqueline Briggs Martin
similes
-My Brother Martin By Christine King Farris
irregular past tense verbs
-A River Ran Wild By Lynne Cherry
complex sentences
I chose books that would be in most personal libraries or school media centers. All of these are personal favorites of mine!
---
Modifications
This will help your students who need extra support. These students might include those with disabilities, English as a Second Language, or just slow writers. Some of your students may struggle to complete the lesson on revision and imitation days for several reasons. They might be slow writers and struggle to get the sentence rewritten. They may have a hard time "seeing" the structure to imitate. Or, they may get overly descriptive and lose focus on the sentence. These modified sentence frames provide a way to help scaffold for your students. After showing the class your example of the revised or imitated sentence and discussing it, provide the sentence frames to the students who need extra support. These modified sentences are not meant for all students – you want students who can think more creatively to be allowed to do so!

---
Vocabulary
Vocabulary must be taught in context for students to truly understand the words and build relationships with them, and then in turn use them in writing and speaking. Move away from lists of vocabulary words and looking up definitions, and teach students how to comprehend with this best practice bundle! I have provided activities designed on researched best practices for use with popular mentor texts to help you maximize your teaching time. There are open-ended activities and ideas provided that can be used with any words, and I encourage you to incorporate past words in with the current words using these formats for frequent repetition.
---
Better Than Basal
This product is JAM-PACKED with Common Core aligned lesson ideas, activities, graphic organizers, and writing prompts for 40 of your favorite mentor texts to use in grades 3-5! (See the book list below!) With over 100 graphic organizers WITH answer keys, you'll be set for the year (and years after that, too)! It also includes the generic versions of the graphic organizers so you can use them with any book!
Activities cover skills such as:
Using evidence to describe, infer, and draw conclusions
Summarizing
Identifying and supporting theme
Identifying and supporting character traits
Explaining figurative language
Identifying vivid language
Visualizing
Supporting opinions
Comparing characters
Comparing texts to media and other texts
Defining words using context clues
...and more!
There is also a writing prompt for every book that ties to the theme, idea, or topic of the book.



Course Curriculum
Volume 2 Downloads
Available in days
days after you enroll
Your Instructor