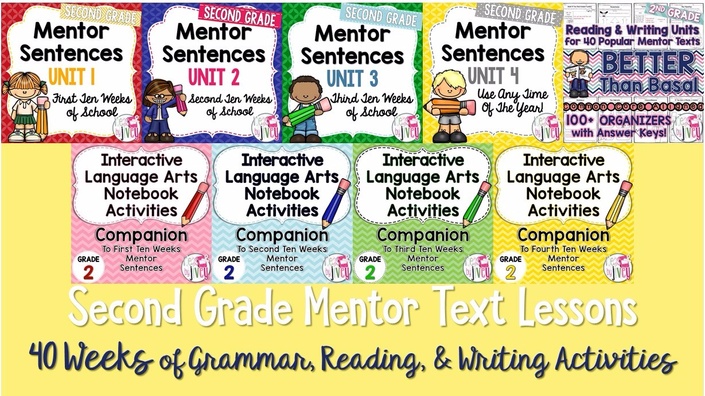 Second Grade Mentor Lessons
40 Weeks of Grammar, Reading, and Writing Activities
MENTOR SENTENCES & INTERACTIVE ACTIVITIES
You don't need to do all of the lessons in the order they come in the units, although you can do 1-3 in order if you'd like. When I created units 1, 2, and 3, I put them in the order I used them in my classroom, so these lessons are in an order that spirals and gets progressively more difficult, but it is not necessary to stay in that order. Unit 4 was created with "anytime" books to fill in between the holidays throughout the year.
There is a 9-page introduction with pictures included of how I use mentor sentences in my room (VERY detailed, day-by-day). In each unit, I walk you through each day's lesson for 40 weeks- all the work is done! I've even done all the thinking for you when it comes to revising and imitating! :)

All of the books and lessons in this bundle are:
-First Day Jitters By Julie Danneberg
(proper nouns)
-Officer Buckle and Gloria By Peggy Rathmann
(proper nouns)
-Memoirs of a Goldfish By Devin Scillian
(proper nouns)
-Chrysanthemum By Kevin Henkes
(plural nouns, proper nouns)
-Scaredy Squirrel By Melanie Watt
(possessive nouns, proper nouns)
-Skippyjon Jones By Judy Schachner
(possessive nouns, proper nouns)
-If You Give A Mouse A Cookie By Laura Joffe Numeroff
(contractions)
-The Paperboy By Dav Pilkey
(contractions)
-Stellaluna By Janell Cannon
(plural nouns, possessives)
-The Little Old Lady Who Was Not Afraid of Anything By Linda Williams
(possessives, contractions)
-The Day The Crayons Quit By Drew Daywalt
(plural nouns, change y to i and add -es rule)
-Diary of a Worm By Doreen Cronin
(compound words)
-Diary of a Fly By Doreen Cronin
(adjectives)
-'Twas the Night Before Thanksgiving By Dav Pilkey
(adjectives)
-Snowmen at Night By Caralyn Buehner
(adjectives and nouns)
-Snowmen at Christmas By Caralyn Buehner
(capitalize holidays)
-The Polar Express By Chris Van Allsburg
(compound words)
-Gingerbread Baby By Jan Brett
(vivid verbs-shades of meaning)
-The Three Snow Bears By Jan Brett
(collective nouns)
-Three Cheers for Tacky By Helen Lester
(ending punctuation)
-100th Day Worries by Margery Cuyler
(past tense irregular verbs)
-Substitute Groundhog by Pat Miller
(past tense irregular verbs)
-Roses are Pink, Your Feet Really Stink by Diane de Groat
(proper nouns)
-Duck For President by Doreen Cronin
(proper nouns)
-What If You Had Animal Teeth!? by Sandra Markle
(apostrophes in contractions and possessives)
-Sweet Tooth by Margie Palatini
(irregular plural nouns)
-Moosetache by Margie Palatini
(adjectives-shades of meaning)
-Cloudy With a Chance of Meatballs by Judi Barrett
(reflexive pronouns)
-The Umbrella by Jan Brett
(onomatopoeia)
-Michael Recycle by Ellie Bethel
(past tense verbs)
-The Important Book by Margeret Wise Brown
(explain why something is important)
-Parts by Tedd Arnold
(contractions)
-Alexander and the Terrible, Horrible, No Good, Very Bad Day by Judith Viorst
(proper nouns)
-Corduroy by Don Freeman
(adjectives)
-Click, Clack, Moo Cows That Type by Doreen Cronin
(onomatopoeia)
-A Chair For My Mother by Vera B. Williams
(irregular verbs)
-Stone Soup by Ann McGovern
(adjectives)
-Smelly Socks by Robert Munsch
(plural nouns)
-Thunder Cake by Patricia Polacco
(vivid verb-shades of meaning)
-Don't Let The Pigeon Stay Up Late! by Mo Willems
(ending punctuation)
---
Better Than Basal
This product is JAM-PACKED with Common Core aligned lesson ideas, activities, graphic organizers, and writing prompts for 40 of your favorite mentor texts to use in second grade! (See the complete list below.) With over 100 graphic organizers WITH answer keys, you'll be set for the year (and years after that, too)! It also includes the generic versions of the graphic organizers so you can use them with any book!
Activities cover skills such as:
identify key details
answer the 5 W's
summarize the story
main idea and details
find the moral/central message with details
identify lessons learned
identify/describe character feelings
identify character challenges and their responses
make lists of rhyming words
understand beginning, middle, end
problem/solution
relate through two points of view within a story
describe characters and setting through illustrations
compare two books
...and more!
There is also a writing prompt for every book that ties to the theme, idea, or topic of the book.
I chose books that would be in most personal libraries or school media centers. All of these are personal favorites of mine!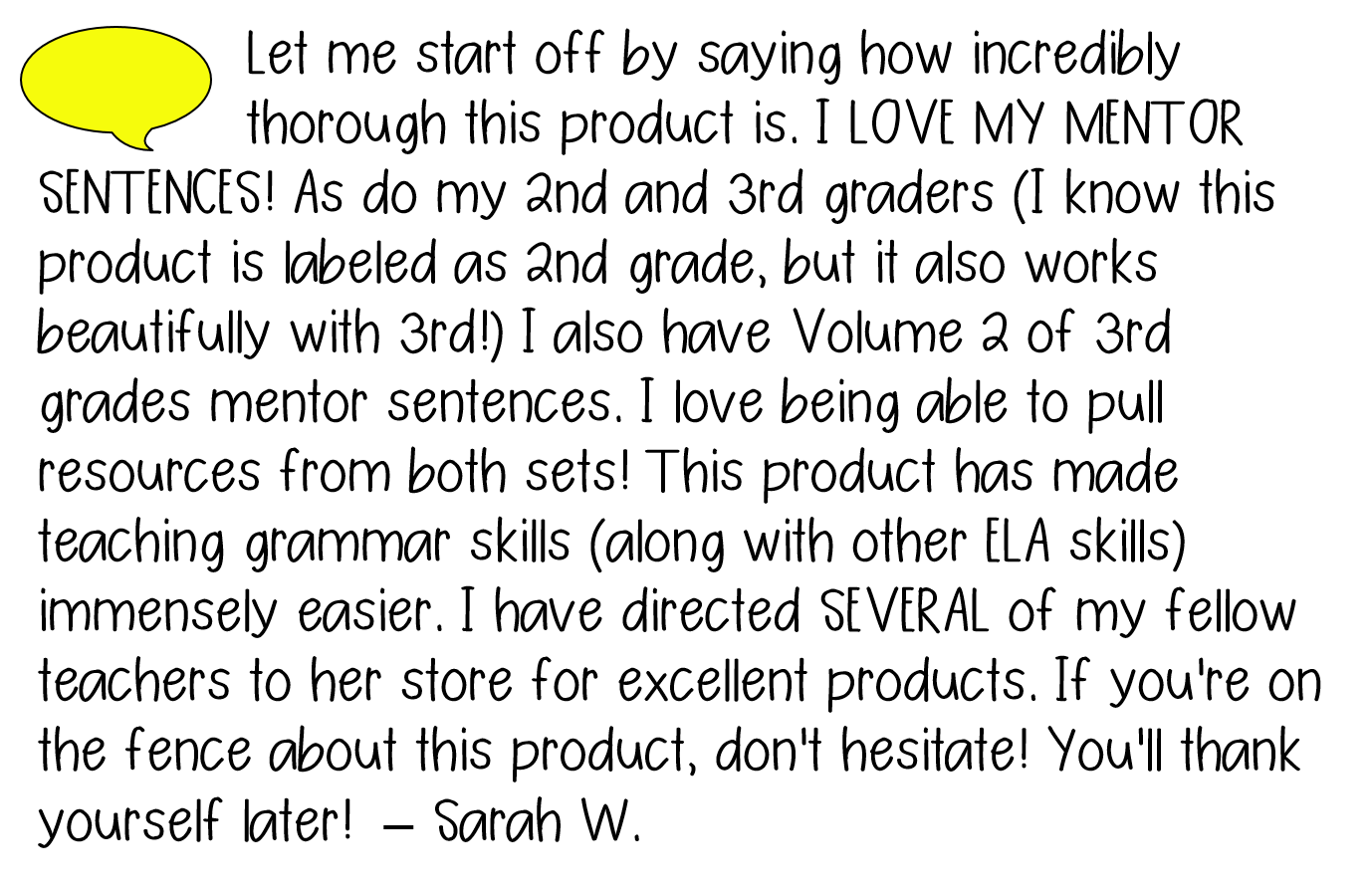 Class Curriculum
Second Grade Downloads
Available in days
days after you enroll
Your Instructor