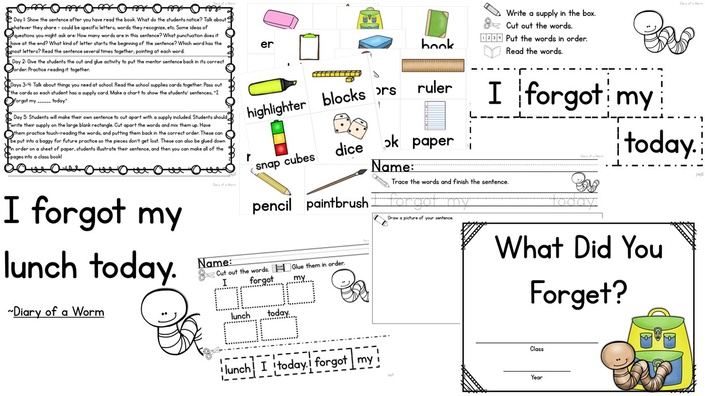 EARLY Emergent Level Course and Mentor Sentences
25 Weeks of Grammar and Writing Activities
Buy Now!
MENTOR SENTENCES & WRITING ACTIVITIES
These mentor sentences are part of a balanced literacy approach. Students will listen to you read the mentor text, identify/notice letters, words, and parts of a sentence, read the words of the mentor sentence, arrange the words to re-form the sentence, learn other words that could fit into the sentence, imitate the sentence by writing in their own words, read their sentence, illustrate their sentence, and even create a class book that can be read over and over again. Your emergent readers WILL BE reading AND writing every week!
I walk you through each day's lesson for 25 weeks- all the work is done! Each lesson includes the teacher sentence page, directions/guidance for each day for the teacher, the student sentence page with words out of order (students cut and glue them back in order), vocabulary picture clue word cards (when applicable) in color and black and white, the student imitation page, and a class book cover in color and black and white.

There are 25 lessons for the following books:

Chrysanthemum by Kevin Henkes
-name
Today I Feel Silly by Jamie Lee Curtis
-emotions/feelings
The Pigeon Finds a Hot Dog! by Mo Willems
-food
The Napping House by Audrey Wood
-places
Don't Let the Pigeon Drive the Bus! by Mo Willems
-vehicles
Diary of a Worm by Doreen Cronin
-school supplies
A House is a House for Me by Mary Ann Hoberman
-animal homes
Brown Bear, Brown Bear, What Do You See? by Bill Martin, Jr.
-colors
Mary Wore Her Red Dress by Merle Peek
-clothes
The Very Hungry Caterpillar by Eric Carle
-fruit
The Dot by Peter H. Reynolds (Dot Day is September 15!)
-what we're good at/talents
Five Little Bats Flying in the Night by Steve Metzger
-things that fly
Clifford's Halloween by Norman Bridwell
-costumes
Thanks for Thanksgiving by Julie Markes
-we're thankful for...
There Was an Old Lady Who Swallowed a Bell by Lucille Colandro
-holiday items
There Was a Cold Lady Who Swallowed Some Snow! by Lucille Colandro
-snowman items
The Missing Mitten Mystery by Steven Kellogg
-things that come in pairs
The Snowy Day by Ezra Jack Keats
-adjectives
Snow Is Falling by Franklyn M. Branley
-things to do when it snows
The Hat by Jan Brett
-winter clothing items *also contains dialogue
The Reason for a Flower by Ruth Heller
-animals that drink nectar
Waiting for Wings by Lois Ehlert
-butterfly life cycle
There Was an Old Lady Who Swallowed a Chick! by Lucille Colandro
-Easter
Hurray for Spring! by Patricia Hubbell
-things to do in spring
The Caterpillar and the Polliwog by Jack Kent
-animal babies *with dialogue
I chose books that would be in most personal libraries or school media centers. All of these are personal favorites of mine!



Course Curriculum
EARLY Emergent Level Downloads
Available in days
days after you enroll
Your Instructor